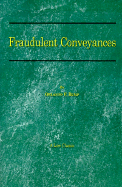 Fraudulent Conveyances: A Treatise Upon Conveyances Made by Debtors to Defraud Creditors
By Orlando F. Bump


2000/03 - Beard Books - Law Classic
1893122786 - Paperback - Reprint - 659 pp.
US$34.95

A useful compendium that presents a systematic and consistent theory of the law of fraudulent conveyances and arranges and classifies the authorities to support that theory.

Publisher Comments

This exhaustive work examines conveyances designed to defraud creditors and contains references to all the cases on the subject, both English and American, at the time the treatise was written in 1872. It does not strive to identify local statutes affecting remedies, but presumes that each practitioner is familiar with the statutes of his own state. Unity and symmetry of subject matter are achieved by considering the law of fraudulent conveyances as simply a part of the common law, with the remedies afforded by common law.

No book review available

Orlando S. Bump, (1841-1884), also wrote The Law of Patents, Trade-marks, and Copyrights in 1877.

| | | |
| --- | --- | --- |
| Chapter I. | History of the Law of Fraudulent Conveyances | 49 |
| Chapter II. | What Constitutes a Fraudulent Conveyance | 61 |
| Chapter III. | Fraudulent Intent | 64 |
| Chapter IV. | Badges of Fraud | 76 |
| Chapter V. | Possession | 101 |
| Chapter VI. | When Possession is Fraud per se | 168 |
| Chapter VII. | Preferenoes | 213 |
| Chapter VIII. | Bona Fides of the Transfer | 227 |
| Chapter IX. | Consideration | 248 |
| Chapter X. | What Transfers are within the Statute | 259 |
| Chapter XI. | Voluntary Conveyances | 279 |
| Chapter XII. | Nuptial Settlements | 305 |
| Chapter XIII. | Subsequent Creditors | 320 |
| Chapter XIV. | Assignments for the Benefit of Creditors | 333 |
| Chapter XV. | Assignments Exacting Releases | 426 |
| Chapter XVI. | How far a Fraudulent Transfer is Void | 442 |
| Chapter XVII. | Bona Fide Purchasers | 474 |
| Chapter XVIII. | Who are Creditors | 484 |
| Chapter XIX. | International Law | 491 |
| Chapter XX. | Executions, Judgments and Attachments | 496 |
| Chapter XXI. | Executors de son tort | 502 |
| Chapter XXII. | Remedies | 505 |
| Chapter XXIII. | Evidence | 538 |
| Chapter XXIV. | Extent of Grantee's Liability | 566 |
| | Cases from the Year Books | 578 |
| | Appendix (Statutes of the various States) | 583 |
| | Index | 609 |