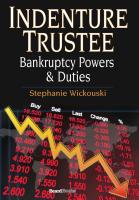 Indenture Trustee - Bankruptcy Powers & Duties
By Stephanie Wickouski
2015/11 - Beard Books
1587983052 - Hardback - 260 pp.
US$74.95


In a detailed Question & Answer format, the author, a nationally recognized bankruptcy practitioner, addresses both the esoteric and real world issues of indenture trustees in chapter 11 cases. Topics include conflicts, direction by holders, compensation, indemnification, fee recovery, and trustee litigation, including X-Clauses, intercreditor, make-whole, and TIA disputes.