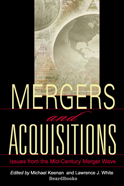 Mergers and Acquisitions: Issues from the Mid-Century Merger Wave
By Michael Keenan and Lawrence J. White

(editors)
2003/06 - Beard Books
1587981874 - Paperback - Reprint - 365 pp.
US$34.95
An excellent chronicle of the diversity of perspectives, disciplines, arguments, and conclusions concerning mergers and acquisitions extant in the 80s.
Publisher Comments
Following an active decade of mergers and acquisitions, in January 1981 the Salomon Center for the Study of Financial Institutions at New York University held a conference to explore a wide range of issues concerning mergers and acquisitions. Participants included academics, lawyers, government regulators, security-industry representatives as well as representatives actively involved in the merger process. A product of the conference, this book encompasses theoretical questions concerning mergers and acquisitions, legal and social concerns, and mergers in the context of corporate strategic planning.

No book reviews available.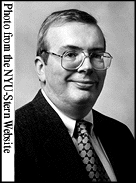 Michael Keenan is Professor of Finance at the Stern School of Business, New York University. His primary teaching areas are corporation finance and investments. He served from 1985-1998 as Executive Secretary and Treasurer of the American Finance Association. He is a CFA and a member of the New York Society of of Security Analysts. He received a B.S. from Case Western Reserve University in 1960 and an M.S. and Ph.D. from Carnegie Mellon University.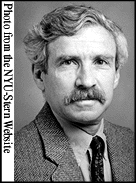 Lawrence J. White is the Arthur E. Imperatore Professor of Economics at the Stern School of Business, New York University. He has taken leave from NYU to serve in the US Government three times: During 1986-1989 he was a Board Member on the Federal Home Loan Bank Board; during 1982-1983 he was the Chief Economist of the Antitrust Division of the U.S. Department of Justice; and in 1978-1979 he was a Senior Staff Economist on the President's Council of Economic Advisers. He received a B.A. from Harvard in 1964, an M.Sc. from the London School of Economics in 1965, and a Ph.D. from Harvard University in 1969.
Other Books by Lawrence J. White:
The Deregulation of the Banking and Securities Industries (with Lawrence G. Golbergs)
Technology and the Regulation of Financial Markets, Securities, Futures, and Banking (with Anthony Saunders)


| | | |
| --- | --- | --- |
| | Preface and Acknowledgments | vii |
| Chapter 1. | Introduction | 1 |
| | Michael Keenan and Lawrence J. White | |
| Part I. | Some Issues in Merger Theory | 7 |
| Chapter 2. | Mergers, Debt Capacity and the Valuation of Corporate Loans | 9 |
| | R.C. Stapleton | |
| Chapter 3. | Valuation Problems in the Service-Sector Mergers | 29 |
| | Michael Keenan | |
| Chapter 4. | Effects of Mergers on Information Production and Dissemination | 41 |
| | Joshua Ronen | |
| Part II. | Social and Legal Issues | 65 |
| Chapter 5. | The Social and Political Consequences of Conglomerate Mergers | 67 |
| | John J. Siegfired and M. Jane Barr Sweeney | |
| Chapter 6. | Mergers and Aggregate Concentration | 97 |
| | Lawrence J. White | |
| Chapter 7. | Chiarella and Rule 14e-3: Theory and Practice | 113 |
| | W. Scott Cooper, John J. Huber and Benjamin M. Vandergrift | |
| Chapter 8. | Do We Want a New, Tough Antimerger Law? | 169 |
| | Dennis C. Mueller | |
| | Comment | 191 |
| | Kenneth M. Davidson | |
| | Comment | 197 |
| | Eleanor M. Fox | |
| Part III. | Empirical Studies of the Determinants of Mergers | 203 |
| Chapter 9 | Financial Motives in Conglomerate Mergers: As Empirical Test | 205 |
| | Ivan E. Brick, Lawrence J. Haber and Daniel Weaver | |
| Chapter 10 | Financial Characteristics of Acquired Firms | 223 |
| | Robert S. Harris, John F. Stewart, and Willard T. Carleton | |
| Chapter 11. | The Role of Employement and Capital Expenditure in the Merger and Acquisition Process | 243 |
| | John B. Guerard, Jr. | |
| Chapter 12. | Interim Tender Offers and the Market for Corporate Control | 267 |
| | Jeffrey A. Bulkley, and Harold M. Wit | |
| | Comment | 301 |
| | Jeffrey M. Schaefer | |
| | Panel Discussion | 305 |
| | Louis Perlmutter, John A. Bulkley, and Harold M. Wit | |
| Part IV | Strategic Planning and Mergers | 313 |
| Chapter 13 | Diversification and Mergers in a Strategic Long-Range-Planning Framework | 315 |
| | Kwang S. Chung and J. Fred Weston | |
| Chapter 14. | Implementation of the Mergers and Acquisitions Program at United Technologies Corporation | 347 |
| | Richard B. Curtiss | |
| | List of Conference Participants and Contributors | 357 |
| | About the Editors | 359 |