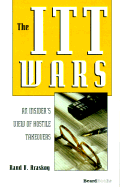 The ITT Wars: An Insider's View of Hostile Takeovers
By Rand V. Araskog


1999/01 - Beard Books
1893122387 - Paperback - Reprint with new epilogue - 262 pp.
US$34.95

The story of the corporate wars of the 1990s waged and won by ITT when the odds were against it and how it emerged as one of the most exciting companies of the twentieth century.

Publisher Comments

The ITT Wars was written by Rand Araskog and originally published in 1989 when he was Chairman and Chief Executive Officer of the ITT Corporation, a $25 billion company with more than 100,000 employees and operations spanning the world. Mr. Araskog outlines the corporate wars that took ITT on a roller coaster ride, beginning with the breakup of ITT in 1994 into five publicly-traded companies on the New York Stock Exchange, followed by a hostile takeover offer by Hilton Hotels in 1997, and culminating in a friendly merger with Starwood Corporation later that year. It is the kind of story that only a CEO could write, with personal insight into each event as it unfolds.

Review by Gail Owens Hoelscher
From Turnarounds and Workouts, October 15, 2001
This book was originally published in 1989 when the author was Chairman and Chief Executive Officer of ITT Corporation, a $25 billion conglomerate with more than 100,000 employees and operations spanning the globe with an amazing array of businesses: insurance, hotels, and industrial, automotive, and forest products. ITT owned Sheraton Hotels, Caesars Gaming, one half of Madison Square Garden and its cable network, and the New York Knickerbockers basketball and the New York Rangers hockey teams. The corporation had rebounded from its troubles of the previous two decades.
Araskog was made CEO in 1978 to make sense of years of wild acquisition and growth. Under Harold Geneen, successor to ITT's founder and champion of "growth as business strategy," ITT's sales had grown from $930 million in 1961 to $8 billion in 1970 and $22 billion in 1979. It had made more than 250 acquisitions and had 2,000 working units. (It once acquired some 20 companies in one month.)
ITT's troubles began in 1966, when it tried to acquire ABC. National sentiment against conglomerates had become endemic; the merger became its target and was eventually abandoned. Next came a variety of allegations, some true, some false, all well publicized: funding of Salvador Allende's opponents in Chile's 1970 presidential elections; influence peddling in the Nixon White House; underwriting the 1972 Republican National Convention. ITT's poor handing of several antitrust cases were also making headlines.
Then came recession in 1973. ITT's stock plummeted from 60 in early 1973 to 12 in late 1974. Geneen found himself under fire and, in Araskog's words, the "succession wars" among top ITT officers began. Geneen was forced out in 1977, and Araskog, head of ITT's Aerospace, Electronics, Components and Energy Group, with more than $1 billion in sales, won the CEO prize a year later.
Araskog inherited a debt-ridden corporation. He instituted a plan of coherent divesting and reorganization of the company into more manageable segments, but was cut short by one of the first hostile bids by outside financial interests of the 1980s, by businessmen Jay Pritzker and Philip Anschutz. This book is the insider's story of that bid.
The ITT Wars reads like a "Who's Who" of U.S. corporations in the 1970s and 1980s. Araskog knew everyone. His writing reflects his direct, passionate, and focused management style. He speaks of wars, attacks, enemies within, personal loyalty, betrayal, and love for his company and colleagues. In the book's closing sentences, Araskog says, "We fought when the odds were against us. We won, and ITT remains one of the most exciting companies of the twentieth century. We hope to keep the wagon train moving into the twenty-first century and not have to think about making a circle again. Once is enough."
Araskog wrote a preface and postlogue for the Beard Books edition, and provides us with ten years of perspective as well as insights into what came next. In 1994, he orchestrated the breakup of ITT into five publicly traded companies. Wagon circling began again in early 1977 when Hilton Hotels made a hostile takeover offer for ITT Corporation. Araskog eventually settled for a second-best victory, negotiating a friendly merger with The Starwood Corporation, in which ITT shareholders became majority owners of Starwood and Westin Hotels, with the management of Starwood assuming management of the merged entity.
Today, Mr. Araskog heads his own investment company in Palm Beach, Florida.
From Library Journal
Araskog, Minnesota farm boy who became CEO of ITT, provides an in-depth look at recent tumultuous events (1980-87) in the company's history. Racked by burdening debt, ITT became a ripe candidate for corporate raiders. Araskog details his fending off of the raiders and his bold moves to pull off a badly needed joint venture with French telecommunications giant CGE. The players involved are obviously very important to the narrative, but their relative obscurity makes it difficult to hold the reader's attention. Araskog writes fairly well, but his prose will not stimulate anyone who does not already have a burning interest in ITT. Throughout the text, he also makes stinging indictments of insider trading and lists steps to correct what he sees as a real threat to healthy and sociologically sound business entities. For large subject collections.-- David M. Turkalo, Social Law Lib., Boston
Reviewer: Enji from Maryland, USA (Amazon.Com)
Probably once you think about it, all corporations have their stories. ITT has one that is worth writing about and learning from. The book chronicles the struggles, troubles and eventual triumph of a company in the midst of hostile takeovers. The preface and postlogue in this edition makes it even more interesting that we are given as much as 10 years worth of looking back by the author himself.
It's a good book to check out.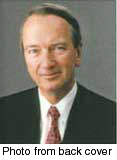 Mr. Araskog was chairman and chief executive of ITT Corporation from December 1995 until March 1998. Previously he had served as the chief executive of the corporate predecessor of ITT Industries from 1979 and as its chairman from 1980. He is a director of Hartford Financial Services Group, Inc., ITT Educational Services, Inc., Alcatel Alsthom of France, Dow Jones & Company, Inc., Rayonier Inc., and Shell Oil Company. Mr. Araskog is a member of The Business Council and The Business Roundtable. He is a graduate of the U.S. Military Academy at West Point and attended the Harvard Graduate School of Arts and Sciences.

Acknowledgments
ix
Preface
xi
Part I
Project Blue
1.
A New Environment
3
2.
The "Bribe"
11
3.
Storm Warnings
22
4.
The Wars of Succession
30
5.
The Company at War
43
6.
Passing the Torch
50
Part II
The Letters
7.
The First Letter
59
8.
The Second Letter
64
9.
The Third Letter
76
10.
Confrontation
82
11.
More Letters
98
Part III
The Raiders
12.
Irwin's Charge
109
13.
The Pressure Cooker
114
14.
Intrigues
126
15.
The Counterattack
136
16.
The Raiders Retreat
144
Part IV
Roxane
17.
The Ravishing Roxane
157
18.
Defense Secrets
167
19.
The Stalking Horse
175
20.
Full Court Press
185
21.
Paris Politics
194
22.
Covering all the Bases
202
23.
The Finish Line
214
24.
Once is Enough
222
Postlogue
231
Index