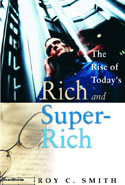 The Rise of Today's Rich and Super-Rich
By Roy C. Smith


2004/12 - Beard Books
158798248X - Paperback - Reprint - 368 pp.
US$34.95

The inside story of wealth creation and creators in the United States.

Publisher Comments

At the beginning of 2000, there were nearly three hundred billionaires and five million millionaires living in the United States. Total household wealth in all of the United States was $37 trillion. This timely book offers an insider's view of notable men, women, and events that led to the creation of this enormous wealth. This book provides a fascinating explanation of how the really big money was made.

From Turnarounds & Workouts, February 15, 2006
Review by Henry Berry:
In 1982, Forbes magazine began its now much-read annual list of America's richest men and women. At the time of the first list, there were 12 billionaires in the country and fewer than 200,000 millionaires. By the year 2000, there were nearly 300 billionaires and about 5 million millionaires. Smith's account of the rise of the rich and super-rich tells the story of five types of individuals: entrepreneurs, dealmakers, investors, tycoons (corporate executives, who are distinguished from
entrepreneurs), and entertainers.
The extraordinary jump in the number of exceptionally wealthy individuals and their growing share of the overall wealth of the United States is attributed to the economic and fiscal policies of the Reagan Administration, which came into office in 1981. Labeled "Reaganomics" by the press, it espoused lower taxes, deregulation, and entrepreneurism. Reagan's approach to government continued into the presidency of Bill Clinton. Clinton "had never known a bond trader in his life," says the
author, but he nevertheless had the sense not to tamper with the robust economic activity he inherited, which was creating fabulous wealth for many and improving the prosperity of an even wider circle of the population. During the Clinton Administration, the technology sector especially stood out for its growth and the numbers of rich and super-rich it produced.
While profiles of highly successful individuals make up most of the content of this book, Smith often introduces statistics to illustrate the impressive wealth-making that occurred during the 1980s and 1990s. The large increase in the number of billionaires and millionaires is only one measure of the unprecedented economic growth that took place during this time. The Dow Jones stock-market indicator tripled during the eight years of the Reagan Administration from its starting point of 821. By the end of the Clinton Administration, it was over 11,000--a fourteen-fold increase from the early 1980s. In 1980, total American household wealth was $8.2 trillion. By 2000, it had reached $32 trillion. The value of the average American household wealth (financial and real estate assets minus debt including mortgage) increase four-and-a-half times over 20 years, compounding at the rate of eight percent per year.

Smith also profiles those who found fortune--both the famous and those little-known outside their fields. Steve Jobs, Ralph Lauren, Ted Turner, Philip Knight (founder of Nike sports shoes), Walt Minnick (founder of a network of plant nurseries), and Marc Josephson (founder of a communications services company) are among those covered by the author. Many icons of the sports and entertainment industry are also the subject of this book, including Steven Spielberg, Tiger Woods, and Oprah Winfrey. These individuals evidence the role of the media in creating wealth. Smith not only portrays the exceptionally successful individuals at the top of their fields, but also tells how they amassed their fortunes. Thus, The Rise of Today's Rich and Super-Rich can be read not only for inspiration, but also for ideas and stratagems on ways of pursuing riches.
A graduate of the U.S. Naval Academy, Roy C. Smith is a professor of entrepreneurship and finance at the Stern School of Business. His particular interest in the leading financial events of the day and in recent times is reflected in his contributions to numerous publications.
From Martin Mayer, author of The Bankers:
"If youíve ever wondered how the extra-rich got that way, you will find a great variety of enlightening answers in The Wealth Creators. Roy C. Smith writes from an investment banking perspective, and itís the investment bankers who know."
From Booklist:
Smith has been a professor at the Stern School of Entrepreneurship and Finance at New York University for the past 12 years, and he is the author of The Global Bankers (1988) and The Money Wars (1992). He uses the annual Forbes list of the 400 wealthiest persons in the U.S., which was first published in 1982, to document changes in who the wealthy are and how wealth is accumulated. In 17 years, the number of billionaires grew from 12 to 268. The number of "self-made" tycoons rose from 159 to 251, three of the four richest persons in the U.S. were officers at Microsoft, and the number of those who had inherited their wealth declined to 25 percent. Smith focuses on 75 individuals--none of whom might be called "the millionaire next door"--to distinguish five different categories of wealth creation. Superentrepreneurs, dealmakers, major investors, corporate tycoons, and world-class entertainers make up Smith's list of this new well-to-do. He concludes by considering the "culture of wealth" in the U.S. today. David Rouse
Refers to an earlier version:
A wide-ranging, in-depth analysis of the most successful money-makers around us today and the five entrepreneurial avenues by which these men and women -- all successful during the period 1980-2000 -- have created great wealth for their companies and investors, our society at large, as well as for themselves and their families.

Refers to an earlier version:
At the beginning of 2000, there were nearly three hundred billionaires and five million millionaires living in the United States. Total household wealth had reached $37 trillion, up from just over $8 trillion when Ronald Reagan became president.
This enormous increase in wealth is the result of significantly changed government policies, the effects of new technology, and increased competition and globalization around the world. All these changes have opened the door to a wide range of enterprising people who created great fortunes for themselves, their investors, and the country-all in two short decades, the 80's and the 90's.
In The Wealth Creators, Roy C. Smith describes how it all happened. >From his twenty years as a top investment banker at Goldman Sachs and an additional twelve years as Professor of Finance and Entrepreneurship at New York University, he explains how the really big money was made. He takes the reader into five core areas of opportunity today as well as the career turning points of key individuals in each:
Entrepreneurs like Mike Bloomberg, Sam Walton, and Ted Turner;
Dealmakers such as Kirk Kerkorian, Ron Perelman, and Larry Tisch;
Investors like Warren Buffett and speculators like George Soros;
Corporate executives such as Jack Welch, Sandy Weill, and Michael Eisner;
And entertainers like Oprah Winfrey, Steven Spielberg, and Tiger Woods.
The stories of these men and women, and others like them, reflect the social and economic history of the last twenty years. Smith's timely book offers an insider's view of notable men, women, and events, aimed at today's strong interest in wealth and money and how one is created and the other is made.
From The Economist:
An easy-to-read analysis of how America's richest people made their money, and why their success may now be replicated in the rest of the world.
From Publishers Weekly:
Rather than focusing on the personalities of the rich or how they spend their fortunes, Smith zeroes in on how they made their money to begin with. In 75 thumbnail sketches of some well-known billionaires (and a few anonymous millionaires), he explains how they leveraged their capital, brand names or business innovations to create bulging bank accounts. Eschewing biographical details and psychological insights, Smith concentrates on financial mechanics. For example, readers don't just learn that Citigroup CEO Sanford Weill made most of his money from stock options, they are treated to a detailed discussion of the stock option-reload plan in his contract. The entry on Michael Jordan ignores his achievements on the basketball court and emphasizes a statistical argument that shows why his endorsement value has been so high. Subjects, including Michael Bloomberg, Oprah Winfrey, Ron Perelman and Tiger Woods are divided into five categories: entrepreneurs, deal makers, investors, tycoons and entertainers, prefaced by explanations about the economics of each field. Interlaced with the case studies is Smith's fact-filled argument that social forces of the late 1970s opened up the possibility of creating enormous wealth, and that the subjects of this book are just extreme examples within the broader trend. However, this larger argument isn't bold enough, nor are his profiles engrossing enough, to satisfy those hoping to learn secret paths to instant wealth or to discover titillating gossip about superrich celebrities.
Copyright 2001 Cahners Business Information, Inc.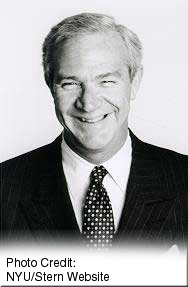 Roy C. Smith, a professor of entrepreneurship, finance and international business at New York University, has been on the faculty of Stern School of Business since 1987. Prior to 1987 he was a General Partner of Goldman, Sachs & Co., specializing in international investment banking and corporate finance. He received a B.S. from the U.S. Naval Academy in 1960 and an M.B.A. from Harvard University in 1966. The author of several books on international banking including The Global Bankers, published in 1989, which has been widely acclaimed, Mr. Smith is a frequent guest lecturer at business schools in the U.S. and in Europe. He and his wife Marianna live in Montclair, New Jersey.

Other Beard Books by Roy C. Smith

| | | |
| --- | --- | --- |
| Introduction | A Shining city on a Hill | 1 |
| Chapter 1 | The Entrepreneurs | 35 |
| Chapter 2 | The Dealmakers | 91 |
| Chapter 3 | The Investors | 137 |
| Chapter 4 | The Tycoons | 205 |
| Chapter 5 | The Entertainers | 253 |
| Chapter 6 | The American Wealth Culture | 283 |
| Epilogue | The End of an Era? | 325 |
| | Acknowledgments | 337 |
| | Notes | 339 |
| | Index | 347 |