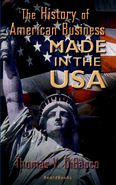 Made in the USA: The History of American Business
By Thomas V. DiBacco


2003/10 - Beard Books
1587982080 - Paperback - Reprint - 302 pp.
US$34.95

Engrossing reading for all those interested in the growth of business in the United States and in its key participants.

Publisher Comments

Presented here are the insights of a leading authority tracing the role of business in the history of the nation and portraying the impact of the major players involved. A well-written and interesting exposition brings the reader to the understanding of why "Made in the U.S.A." became a term of endearment and how Americans' support of business provided individuals with certain beneficial advantages, such as the inducement to move. Big risk meant big rewards for individuals as well as for the nation.

From The Wall Street Journal:
"Thomas DiBacco thinks American Business has gotten a bad deal...With Made in the U.S.A., Mr. DiBacco intends to set the record straight...absorbing, occasionally amusing and sometimes provoking vignettes of business and technical genius at work...[An] entertaining guide.
From John F. Bookout, President and CEO, Shell Oil:
One readily understands from Thomas DiBacco's well-written book why America, with its unique political and legal institutions, has proved such a fertile ground for business and business people.
From Barron's:
...a rousing four cheers for the industrious people who shaped and nourished American free enterprise.
From Library Journal:
DiBacco's sprightly introductory survey of American business history highlights the seminal figures in a series of biographical sketches. Although the key elements are familiar to those acquainted with the subject, some of the details are fresh. The book is comparable to John Chamberlain's The Enterprising Americans (Harper, 1974), incorporating more recent historical interpretations. This is an upbeat story of unfolding progress, whose strengths include DiBacco's frequent and effective use of primary quotations and his intriguing histories of everyday products. Written for the general reader, it is recommended for libraries in need of a basic introduction to business history. John Cudd, Western Kentucky Univ., Bowling Green (Copyright 1987 Reed Business Information, Inc.)
From Publishers Weekly:
This book is provocative and informative and no student of U.S. history should miss it.

| | |
| --- | --- |
| | Thomas V. DiBacco has had a long and distinguished career in teaching and as a consultant to numerous governmental and private organizations. His teaching specialties have included United States History, United States Social History, and History of Business, Technology, and the Economy. He is the author of numerous books and more than 2,000 articles in scholarly journals and newspapers around the country. He retired in 1999. Dr. DiBacco received a B.A. from Rollins College in 1959, and a M.A, and Ph.D. from The American University in 1962 and 1965, respectively. |
| Photo from back cover blurb | |

| | | |
| --- | --- | --- |
| | Preface | ix |
| 1. | The Beginnings | 1 |
| 2. | Ben Franklin: The First Success Story | 15 |
| 3. | William Byrd II: The Southern Exposure | 26 |
| 4. | The American Revolution | 38 |
| 5. | A Great Meeting | 50 |
| 6. | The Hamiltonian Scenario | 63 |
| 7. | Exciting Infrastructures | 75 |
| 8. | Inventive Genius | 91 |
| 9. | The Southern Dilemma | 107 |
| 10. | The Business Values in Society | 120 |
| 11. | Unsettling Times, 1865-1900 | 135 |
| 12. | Rocky and Andy | 146 |
| 13. | R.W. and J.C. | 160 |
| 14. | An American Institution, Henry Ford | 173 |
| 15. | The Progressive Compromise | 188 |
| 16. | More Inventive Genius | 204 |
| 17. | Business and Government: The 1930s | 222 |
| 18. | World War II | 235 |
| 19. | The Fabulous Fifties | 250 |
| 20. | Fine Points | 265 |
| | Select Bibliography | 277 |
| | Index | 279 |