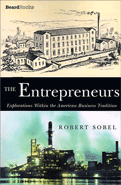 The Entrepreneurs: Explorations Within the American Business Tradition
By Robert Sobel


2000/09 - Beard Books
1587980274 - Paperback - Reprint - 428 pp.
US$34.95

American business giants of the past 200 years who contributed often in unconventional ways to the fabric of modern corporate life.

Publisher Comments

A well-researched, informative book in which Robert Sobel, the noted financial historian, explores the lives and careers of nine representative innovators in business during the last 200 years, men frequently overlooked by contemporary social and political historians: Francis Cabot Lowell, John Wanamaker, Cyrus McCormick, James Hill, James Duke, Theodore Vail, Marcus Loew, Donald Douglas, and Royal Little. Each one was selected to illustrate a different aspect of American business tradition. All share the ability to grasp opportunity and to oppose conventional wisdom when necessary, both of which contributed to the fabric of modern corporate life. In the aggregate they created new organizational traditions that were imitated throughout the Western world.

No book reviews available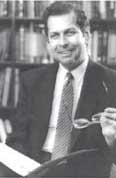 Robert Sobel was born in 1931 and died in 1999. He was a prolific historian of American business life, writing or editing more than 50 books and hundreds of articles and corporate profiles. He was a professor of business at Hofstra University for 43 years and held a Ph.D. from New York University. Besides producing books, articles, book reviews, scripts for television and audiotapes, he was a weekly columnist for Newsday from 1972 to 1988. At the time of his death he was a contributing editor to Barron's Magazine.

Other Beard Books by Robert Sobel

| | | |
| --- | --- | --- |
| | Introduction | ix |
| I | The Patrician as Factory Master | 1 |
| II | From Farm Boy to Tycoon | 41 |
| III | The Triumph of Content Over Form | 73 |
| IV | The Business of Empire | 110 |
| V | Opportunism Is the Spur | 148 |
| VI | The Subtle Serendipidist | 195 |
| VII | An Artist in Spite of Himself | 247 |
| VIII | The Fortunes of War | 289 |
| IX | The Spider and His Webs | 341 |
| X | Conclusion | 377 |
| | Bibliography | 385 |
| | Index | 400 |