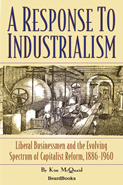 A Response to Industrialism: Liberal Businessmen and the Evolving Spectrum of Capitalist Reform, 1886-1960
By Kim McQuaid


2003/10 - Beard Books
1587982064 - Paperback - Reprint - 314 pp.
US$34.95

This book shows how in America socialism is a puny weakling at best and the future belongs to the American businessman.

Publisher Comments

This book originally submitted to the Graduate School of Northwestern University in 1975 as a doctoral dissertation, aims to analyze the reformist experimentations undertaken by American capitalists from 1886 to 1960. Based on the premise that twentieth century reform has regularly consisted of efforts to salvage capitalism under the direction of powerful businessmen, McQuaid has studied the careers of six men who spanned the spectrum of industrial background and reformist approach.

Selecting men whose actions placed them on the liberal fringe of the business community, he chronicles the successes and failures of varied reform approaches. This well-documented study defines the limits of capitalistic liberalism and how these limits have evolved over time-particularly in the important areas of employer/employee and business/government relations.

From Book News, Inc.:
In his 1975 PhD dissertation at Northwestern U., Quaid (history, Lake Erie College, Painesville, OH) examined how US businessmen rather than reform/radical groups responded to the country's transformation from an agrarian to technological society. Lacks an index and upgrading of the text quality since originally published by Garland in the series American business history.

Kim McQuaid is a historian, educator, and writer. He is currently a Professor of History at Lake Erie College in Painesville, Ohio, where he has taught since 1977. The author of several books of historical and political importance, he was named a Woodrow Wilson Fellow in 1970. He is listed in the 58th Edition of Who's Who in America.

Prologue
i
I.
A Calculus of Moral Reform in Industry: Samuel M. Jones
1
II.
Nelson O. Nelson and the Cooperative Industrial Community
24
III.
Edward A. Filene and the Intelligent Selfishness of Industrial Reform, 1896-1912
50
IV.
A Gospel of Efficiency: H.S. Dennison, E.A. Filene, and the Scientific Management Impulse, 1912-1918
77
V.
An Atmosphere of Organization: The Rise of the New Capitalism, 1918-1924
98
VI.
Triumph and Catastrophe: The New Capitalist Impulse, 1924-1932
129
VII.
Leaders Without Followers: Liberal Businessmen and the Early New Deal, 1932-1935
158
VIII.
Decay and Resurgence: Recession, War and the Parameters of Liberal Capitalism, 1936-1945
189
IX
The Heritage of the New Capitalism, 1945-1960
221
Notes
254
Bibliography
285