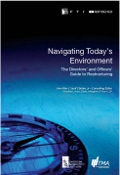 Navigating Today's Environment: The Directors' and Officers'
Guide to Restructuring
By John Wm. ("Jack") Butler, Jr
Consulting Editor, Skadden, Arps, Slate, Meagher & Flom LLP


2010/08 - Hardcover
9781905773084
US$89.95




Publisher Comments

Navigating Today's Environment: The Directors' and Officers' Guide to Restructuring is a colossal undertaking with a unique format. Consulting Editor John Wm. "Jack" Butler, Jr., co-leader of Skadden's global Corporate Restructuring practice, convened the leading voices of the U.S. restructuring community to engage and inform directors and officers of U.S. corporations. The result is a series of forty five independent "conversations" with veteran financial advisors, investment bankers, investors, lawyers, and turnaround managers in the restructuring community. Each contributor writes with the objective of promoting corporate governance best practices. Each voice speaks to those companies that are undergoing rapid change and/or are at risk of becoming, or have already become, distressed business enterprises. It is intended to help facilitate corporate preparedness and is best consumed before it is needed.

As Mr. Butler says in his introductory remarks, "....one of the greatest contributions directors and officers can make to their company and their stakeholders is to detect and mitigate distress at its earliest stages."


John Wm. ("Jack") Butler, Jr.
Skadden, Arps, Slate, Meagher, & Flom LLP
Partner - Corporate Restructuring
Jack Butler co-leads Skadden, Arps' global corporate restructuring practice where he focuses primarily on advising companies and investors with respect to complex business reorganizations, troubled-company M&A, debt restructurings and financing matters, including cross-border transactions; and advising officers and directors on corporate governance and fiduciary duty matters. He has assisted many global businesses restructure outside the US, execute cross-border financing and privatization transactions, and divest various business lines and entities. His representative engagements include transformational restructurings in the airline, automotive, energy, healthcare, manufacturing, media and telecommunications, retail and utilities industries. Mr. Butler also participates regularly in pro bono legal programs, including acting as a guardian ad litem in contested guardianship cases in Cook County, Illinois.
Mr. Butler was named one of the decade's forty most influential lawyers by The National Law Journal in March 2010, and is one of two practicing lawyers and ten inductees in the inaugural class of the Turnaround, Restructuring and Distressed Investing Industry Hall of Fame. He was one of The American Lawyer's Dealmakers of the Year in 2010 and 2004, and also received the ILO Client Choice Award 2010 based on client nominations for excellent client care and quality of services rendered. In 2008, Mr. Butler received the Ellis Island Medal of Honor, which is awarded to Americans who exemplify outstanding qualities in both their personal and professional lives, while continuing to preserve the richness of their particular heritage.
Mr. Butler has been regularly recognized as a leading lawyer by Chambers Global; Chambers USA; The International Who's Who of Business Lawyers; Who's Who Legal USA; Who's Who Illinois; The Best Lawyers in America; Euromoney and Legal Media Group's Expert Guide to the World's Leading Insolvency and Restructuring Lawyers; IFLR 1000; Global Counsel (PLC Which Lawyer?); and The Lawdragon 500: Leading Lawyers in America. He also has been included regularly in the K&A Restructuring Register, the peer group listing of the top restructuring attorneys and financial advisors in the United States, and Turnarounds & Workouts' ranking of the outstanding restructuring lawyers in America.
In addition to his consulting editor responsibilities for Navigating Today's Environment: The Directors' and Officers' Guide To Restructuring, Mr. Butler has published frequently on corporate governance best practices including, most recently, Preserving State Corporate Governance Law in Chapter 11: Maximizing Value Through Traditional Fiduciaries (18 Am Bankr Inst L Rev 337 [2010]) and Corporate Governance of Troubled Companies and the Role of Restructuring Counsel (63 Bus Law 855 [2008]).
Mr. Butler served as Chairman of the Turnaround Management Association for two years in 1996 and 1997, and is a fellow in the American College of Bankruptcy and International Insolvency Institute. A past director of the American Bankruptcy Institute, he founded INSOL's Group of 36 and has served many other industry organizations, including the American Board of Certification, Commercial Finance Association Education Foundation and the New York Institute of Credit.

Introduction and acknowledgments
John Wm. ("Jack") Butler Jr., Consulting Editor
Skadden, Arps, Slate, Meagher & Flom LLP
7
TURNAROUND, RESTRUCTURING, AND DISTRESSED INVESTING INDUSTRY HALL OF FAME CONTRIBUTORS
1
The role of the board in preventing corporate freefall
Dominic DiNapoli
FTI Consulting Inc
14
2
How to spot the warning signs and stay on top of corporate distress
Henry S. Miller
Miller Buckfire & Co
20
3
From hangover to recovery? The thoughts of a turnaround lender
Lawrence A. Marsiello
Pine Brook Road Partners LLC
27
4
Know your exit game plan first: Effective strategies in restructuring
William Repko
Evercore Partners Inc
36
5
Memo from your investors: A practical guide for the boards of directors of distressed companies
Wilbur L. Ross
WL Ross & Co LLC
41
6
Managing in the "new normal": A self-help corporate governance program for directors and officers
John Wm. ("Jack") Butler Jr., with
Peter Allan Atkins and J. Eric Ivester
Skadden, Arps, Slate, Meagher & Flom LLP
45
7
Avoiding Chapter 22: Why post-emergence liquidity, profitability and leverage make all the difference
Professor Edward Altman, with T. Kant
and T. Rottanaruengyot
Stern School of Business, New York University
52
8
Planning effective restructurings through the looking glass of 50 years of bankruptcy and reorganization
Harvey R. Miller
Weil, Gotshal & Manges LLP
64
CORPORATE GOVERNANCE
9
Making critical decisions and monitoring performance during a restructuring: A field-guide for boards
DeLain E. Gray and Randall S. Eisenberg
FTI Consulting Inc
72
10
Restructuring under a microscope: Cautionary tales for directors and officers in "distressed land"
Harvey R. Miller
Weil, Gotshal & Manges LLP
79
11
Revisiting traditional notions of governance, fiduciary duty and the zone of insolvency from the creditors' perspectives
Keith J. Shapiro
Greenberg Traurig LLP
88
12
Fiduciary duties: Timing considerations in equitizing excess debt
James F. Conlan and Jessica C. K. Boelter
Sidley Austin LLP
93
13
Driving restructuring: The US government takes a lead role in bankruptcy
John J. Rapisardi
Cadwalader, Wickersham & Taft LLP
97
14
White-collar crime: The law enforcement agenda
John K. Carroll and Richard Marmaro
Skadden, Arps, Slate, Meagher & Flom LLP
104
15
Strategies for addressing shareholder activism and communications
David F. Heroy and Michael F. DeFranco
Baker & McKenzie LLP
112
ENTERPRISE RISK ASSESSMENT
16
Preserving and recovering value in illiquid times
Duffield ("Duff") Meyercord (on behalf of)
Turnaround Management Association
120
17
Liquidity provides optionality: An approach for boards during a liquidity crisis
Adrian Frankum, Armen Emrikian and
James Guglielmo
FTI Consulting Inc
125
18
When cash is king: Understanding cash requirements for distressed companies and maintaining effective management and reporting systems
Ralph S. Tuliano, Thomas J. Allison and
Melissa Kibler Knoll
Mesirow Financial Consulting LLC
132
19
Derivatives after Lehman: Assessing your company's risk profile
Mark A. McDermott and John W. Osborn
Skadden, Arps, Slate, Meagher & Flom LLP
138
20
Managing "fox in the henhouse" syndrome: Implementing effective internal controls
Van E. Conway and Kenneth J. Malek
Conway MacKenzie Inc
145
21
Evaluating the balance sheet in a distressed environment: Differentiating strategic decision-making from desperation transactions
Walt Dlugolecki and Ed Ordway
Capstone Advisory Group LLC
151
22
Refinancing the looming "wall of debt" - boards beware
Jonathan Katz
GCA Savvian Advisors LLC
158
23
A turnaround manager's risk-assessment imperatives for directors and officers
Lisa J. Donahue and Eva Anderson
AlixPartners LLP
164
RESTRUCTURING STRATEGIES IN DISTRESSED SITUATIONS
24
Negotiating with lenders: Forbearance, waivers, lender approval and the collective action conundrum
Howard Seife and Andrew Rosenblatt
Chadbourne & Parke LLP
172
25
How distressed claims trading may impact your reorganization strategy
Edward S. Weisfelner
Brown Rudnick LLP
178
26
Evaluating strategic debt buybacks: How to pursue effective de-leveraging strategies
Dennis Dunne, Gregory Bray and
Robert Shenfeld
Milbank, Tweed, Hadley & McCloy LLP
185
27
Leveraging exchange offers to maximize value in distressed situations
Timothy R. Coleman
Blackstone Group LP
191
28
Building liquidity bridges through asset dispositions without bankruptcy
John E. Luth, Michael B. Cox and Lorie R. Beers
Seabury Group LLC
198
29
Alternatives to bankruptcy under federal and state law
Robert S. Hertzberg, Kay Standridge Kress and
Deborah Kovsky-Apap
Pepper Hamilton LLP
203
30
The race to the starting line: Developing prepackaged and prenegotiated reorganization plans to maximize value
James H. M. Sprayregen, Richard M. Cieri, David
R. Seligman, Chad J. Husnick and Jeffrey D. Pawlitz
Kirkland & Ellis LLP
209
31
Managing traditional Chapter 11 reorganizations: A primer for directors and officers on bankruptcy fundamentals
John C. DiDonato and Daniel P. Wikel
Huron Consulting Group
214
32
Asset dispositions in Chapter 11: Whether to sell through Section 363 or a plan of reorganization
Corinne Ball
Jones Day
221
33
How, why, and when creditors may credit bid their debt for your company
Keith A. Simon
Latham & Watkins LLP
228
SPECIAL FOCUS FORUM
34
The busted spinoff: Lessons for directors
Todd R. Snyder
Rothschild Inc
234
35
Recovering fraudulent transfers made in business transactions
Albert Togut and Neil Berger
Togut, Segal & Segal LLP
246
36
Evaluating executive compensation "best practices" in the post-recession world
Linda E. Rappaport, Douglas P. Bartner,
James L. Garrity and Amy Beth Gitlitz
Shearman & Sterling LLP
252
37
Managing global companies: Cross-border issues
Antonio M. Alvarez III and Jeffery Stegenga
Alvarez & Marsal
258
38
Preserving global enterprise value: Managing international subsidiaries and affiliates through cross-border reorganizations
Simon Freakley and Joff Mitchell
Zolfo Cooper
265
39
Delicate state: Selection of the post-bankruptcy board
Julie H. Daum and Bettina M. Whyte
Spencer Stuart and Bridge Associates LLC
272
SPECIALIZED RESTRUCTURING RESOURCES IN DISTRESSED SITUATIONS
40
Why turnaround professionals are indispensable to directors and officers
Gerald P. Buccino
Buccino & Associates Inc
278
41
Effective communications in the distressed world: The role of a strategic communications adviser
Michael S. Sitrick
Sitrick Brincko Group
283
42
How a claims agent can maximize value and speed successful outcomes in Chapter 11 reorganizations
Daniel C. McElhinney and Lorenzo Mendizabal
Epiq
289
43
Evaluating and monetizing assets: The role of the independent asset advisory firm in corporate decision-making
Jeffrey W. Linstrom, Jeffrey B. Hecktman and
Richard L. Kaye
Hilco
293
CLOSING REFLECTIONS
44
Does reorganization need reform? Time for a new look at Chapter 11
Robert J. Keach (on behalf of)
American Bankruptcy Institue
300
45
Find it, face it, fix it: How to protect your company from the boom and bust cycle
Leonard J. Kennedy
Retired General Counsel (Corporate Secretary
and Chief Government Affairs Officer),
Sprint Nextel Corporation
305
NOTES AND REFERENCES
314
CONSULTING EDITOR'S PROFILE
319
CONTRIBUTOR PROFILES
320
SPONSOR PROFILES
342