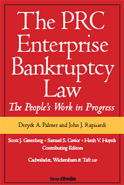 The PRC Enterprise Bankruptcy Law: The People's Work in Progress
By Deryck A. Palmer and John J. Rapisardi
08/2009 - Hardcover
449 pages
1587982978


US$179.95





Publisher Comments

Recognizing that bankruptcy law is a cornerstone in the legal infrastructure of any modern, developed market system, the People's Republic of China has labored over the past dozen years to replace its initial collection of bankruptcy-related laws with a unified, updated law that addresses the needs of participants in China's increasingly market-based economy.

The Enterprise Bankruptcy Law, which became effective on June 1, 2007, is a complex and sophisticated commercial statute that features, among many notable developments, provisions enabling the reorganization of not just state-owned enterprises but any troubled "enterprise legal person." Indeed, the new law incorporates many of the most advanced techniques from the restructuring laws of developed nations.

As a tool that makes it easier for Chinese companies to obtain credit in an increasingly competitive and international market, and for foreign parties to invest with more confidence in China's markets, the Enterprise Bankruptcy Law represents a major step forward. However, as the authors note, the new law is still a work in progress as many of its aspects remain unclear and untested.

Authors Deryck A. Palmer and John J. Rapisardi, partners in the corporate restructuring practice at Cadwalader, Wickersham & Taft LLP, undertake a systematic review of the Enterprise Bankruptcy Law's major provisions, from the comparative perspective of the U.S. Bankruptcy Code in particular. They provide not only a nuanced understanding of the law, but also insights and practical recommendations on its meaning and possible application.

Intended for bankruptcy law practitioners and judges, legislators, academicians, and other restructuring professionals, the materials and issues presented in this book are as challenging as they are important.

No book reviews available.

Deryck A. Palmer

Deryck Palmer, Co-Chair of the Financial Restructuring Department, concentrates his practice in the representation of debtors as well as creditors under chapter 11 of the Bankruptcy Code, and has handled a wide variety of workout, corporate restructuring, and bankruptcy matters.

Recognized by Turnarounds and Workouts as one of the nation's top twelve "Outstanding Bankruptcy Lawyers," Mr. Palmer serves as the Co-Vice-Chair of the American Bar Association's Business Bankruptcy Committee's Healthcare Working Group and is a member of both the New York State Bar Association Committee on Bankruptcy and Committee on Courts and the Community. He is also a former member of the Committee on Bankruptcy and Corporate Reorganization of the Association of the Bar of the City of New York.

Mr. Palmer lectures at many of the major law schools nationwide and is an Adjunct Professor of Law, teaching advanced topics in bankruptcy and corporate reorganization, at New York Law School. He is the co-author of The PRC Enterprise Bankruptcy Law: The People's Work in Progress (Beard Group, Inc., 2008), History of Bankruptcy Law in the Second Circuit (Matthew Bender & Co., 1995) and Restructuring: The Search for Value in a Troubled Enterprise (Euromoney Books, 1993). In addition, he delivers numerous lectures each year on business reorganization topics, including an annual American Bar Association panel concerning current developments in the field.

Mr. Palmer is a member of the Bureau of National Affairs Advisory Board for the Bankruptcy Law Reporter and sits on the Board of Directors of Boys & Girls Harbor, Inc., Insol International, Greater New York Councils Boy Scouts of America, Maplewood Village Alliance, Syracuse University, and The Cleveland Clinic Foundation. He is also a Fellow of the American College of Bankruptcy.

Mr. Palmer received his B.A. from Syracuse University and his J.D. from the University of Michigan. He recently received the Chancellor's Citation for Exceptional Achievement from Syracuse University, which recognizes outstanding contributions in scholarship, research, teaching, and creative work.

Prior to joining Cadwalader as a partner in 2007, Mr. Palmer was a partner at Weil, Gotshal & Manges LLP in the Business Finance and Restructuring Department.

John J. Rapisardi

John Rapisardi, Co-Chair of Cadwalader's Financial Restructuring Department, has more than 27 years of domestic and international restructuring experience across a variety of industries, including automotive, casinos, chemical, healthcare, retail, real estate, satellite, sports franchises, textile and telecommunications companies. Mr. Rapisardi served as outside counsel to the United States Department of Treasury and the Presidential Task Force with respect to the restructuring of Chrysler, General Motors and Delphi. Most recently, he was selected by the United States Department of Treasury to represent the government in the restructuring of CIT, the distressed bank holding company.

Mr. Rapisardi was recently recognized by the Global M&A Network as "Restructuring Advisor of the Year" and received a Turnaround Atlas Award in this category for his work in 2008/2009. He has been named as a highly recommended international restructuring counsel in PLC Cross-border Restructuring and Insolvency Handbook, recognized as one of the leading restructuring lawyers in the U.S. by Chambers USA, and included in Best Lawyers in America.

Mr. Rapisardi is playing or has played a leading role on behalf of clients in the following restructurings:


LyondellBassell Industries in its chapter 11 cases
Citigroup, Inc. in the chapter 11 case of Lehman Brothers Holding, Inc.
JPMC as agent lender for $2 billion debt in Centro Properties
Barclays as agent lender for $1 billion debt in the Landsource chapter 11 cases
Merrill Lynch as agent lender in BLB/Twin Rivers Casinos
Ad Hoc Noteholders Committee in Black Gaming
Ad Hoc Noteholders Committee in Fleetwood Enterprises
Lehman as agent lender for approximately $2 billion debt in Intrawest
An investor in acquiring Steve & Barrys (retail department store chain) out of chapter 11
Merrill Lynch in the Fred Leighton chapter 11 cases
Saint Vincents Medical Center in its chapter 11 case
West Point Stevens in its chapter 11 case and related U.K. subsidiaries in insolvency proceedings
Portland Trailblazers in workout negotiations with its bondholders
Merrill Lynch in the $300 million exit financing of Pliant Corporation
A bank steering committee in the Owens Corning chapter 11 case
An ad hoc bondholders' committee in the Solutia chapter 11 case
An investor in acquiring Aladdin Casino in its chapter 11 case
The bondholders' committee in the Trump Atlantic City Casinos restructuring
Investors in the acquisition of Barneys New York department stores in their chapter 11 cases
An ad hoc bondholders' committee in the NSM Steel restructuring (under Thai bankruptcy law)
Metallurg in its chapter 11 case and related U.K. and German subsidiaries in insolvency proceedings
A bank steering committee in the Safety Kleen chapter 11 cases
Mr. Rapisardi has advised investors and financial institutions and written extensively on the subject of lender rights and remedies under the new Chinese Bankruptcy Code. He is a member of INSOL and was chair of its planning committee for INSOL's Quadrennial Conference 2009 in Vancouver, British Columbia.

A Beta Gamma Sigma graduate from the College of Business Administration at Fordham University, Mr. Rapisardi received his LL.M. from New York University and J.D. from Pace University and served on the Pace Law Review.

Mr. Rapisardi clerked two years for the then Chief Bankruptcy Judge of the Southern District of New York.

Mr. Rapisardi for the past fifteen years, has been a regular bankruptcy columnist for the New York Law Journal.



Preface

v

Foreword

vii

Introduction

1

CHAPTER ONE: Bankruptcy Law in the People's Republic of China

9

1.1 The March Toward a Market Economy
9
1.2 Chinese Legislative Institutions and the Legislative Process
12
1.2.1 Legislative Institutions, 12
1.2.1.1 National People's Congress, 12
1.2.1.2 Standing Committee of the NPC, 13
1.2.1.3 State Council, 14
1.2.2 China's Courts, 16
1.2.3 Interpretation of Laws, 17
1.3 The Chinese Banking System and the NPL Market in China
18
1.4 Commercial Enterprises in the PRC
20
1.4.1 Legal Persons, 21
1.4.2 Enterprise Legal Persons, 21
1.4.2.1 State-Owned Enterprises, 22
1.4.2.2 Business Forms Under the Company Law, 22
1.4.2.2.1 Limited Liability Companies, 23
1.4.2.2.2 Foreign Investment Enterprises, 23
1.4.2.2.3 Companies Limited by Shares, 26


CHAPTER TWO: Bankruptcy Law in the PRC Prior to 2007

29

2.1 The 1986 Bankruptcy Law
32
2.1.1 Initiating a Bankruptcy Case, 32
2.1.1.1 Eligible and Ineligible Entities, 32
2.1.1.2 Two Ways to Commence a Case, 32
2.1.1.3 SOEs Contesting an Involuntary Petition, 33
2.1.1.4 Involuntary Petition Allows for Possible Reorganization of SOE, 33
2.1.2 Implementation, 34
2.1.2.1 Liquidation Teams, 34
2.1.2.2 Satisfaction of Claims, 35
2.1.3 Other Provisions of the 1986 Bankruptcy Law, 36
2.2 Chapter XIX of the 1991 Civil Procedure Law
37
2.3 The 2002 Explanation
38
2.4 Labor Issues and the "Policy Bankruptcy" Program
39
CHAPTER THREE: Property, Collateral, and Creditor's Remedies in the PRC
43
3.1 Lending in China
43
3.1.1 International Borrowing by Organizations Resident in China, 44
3.1.2 Borrowing by FIEs, 45
3.1.2.1 Foreign Borrowing, 45
3.1.2.2 Domestic Borrowing, 46
3.1.3 Consequences of Unapproved Lending, 47
3.2 Taking and Perfecting Security
47
3.2.1 Forms of Security, 48
3.2.1.1 Guarantees, 49
3.2.1.2 Mortgages and Pledges, 50
3.2.2 Perfection of Security Interests, 53
3.2.3 Security Given to Foreign Parties, 53
3.3 Collecting Debts in the PRC
54
3.3.1 Debt Recovery by the Unsecured Creditor, 54
3.3.2 Debt Recovery by the Secured Creditor, 55

CHAPTER FOUR: Overview of the Enterprise Bankruptcy Law

57

4.1 The Need for Bankruptcy Reform
57
4.2 General Contours of the Enterprise Bankruptcy Law
58
4.3 Three Alternatives: Reorganization, Conciliation, and Liquidation
64
4.3.1 Reorganization, 65
4.3.2 Conciliation, 65
4.3.2.1 Application for and Acceptance of Conciliation Procedure, 65
4.3.2.2 Adoption of the Conciliation Agreement by Creditors, 66
4.3.2.3 Discharge, 67
4.3.3 Bankruptcy Liquidation, 68
4.3.3.1 Declaration of Bankruptcy, 68
4.3.3.2 Plan of Disposal; Asset Sales, 69
4.3.3.3 Plan of Distribution; Priority Scheme, 70
4.3.3.4 Termination of Bankruptcy Proceeding, 73

CHAPTER FIVE: Commencing a Bankruptcy Proceeding

75

5.1 Who May Be a Debtor
75
5.1.1 Entities: SOE and Non-SOE Distinction, 75
5.1.2 Prerequisites: Financial Requirements, 76
5.2 Filing and Acceptance of Bankruptcy Application
79
Insights and Recommendations, 81
5.3 Automatic Stay
82
5.3.1 The Stay with Respect to Pre-Acceptance Claims, 82
5.3.2 Relief From Stay, 83
Insights and Recommendations, 84

CHAPTER SIX: Control of Case; Operation of Business

85

6.1 Administrator
85
6.1.1 Administrator's Duties, 86
6.1.2 Eligibility and Selection, 87
6.1.3 Comparison to Eligibility and Selection of Trustees Under the U.S. Bankruptcy Code, 89
6.1.4 Compensation for Administrators, 91
Insights and Recommendations, 92
6.2 Debtor in Possession
95
6.3 Creditor Representatives
97
6.3.1 Creditors' Meeting Under the Enterprise Bankruptcy Law, 97
6.3.2 Creditors' Committee Under the Enterprise Bankruptcy Law, 98
6.3.3 Creditors' Committee Under the U.S. Bankruptcy Code, 98

CHAPTER SEVEN: Claims Against the Debtor

101

7.1 Categories of Claims
101
7.1.1 Categories of Claims Under the Enterprise Bankruptcy Law, 101
7.1.2 Categories of Claims Under the U.S. Bankruptcy Code, 101
7.2 Assertion of Claims
102
7.2.1 Asserting Claims Under the Enterprise Bankruptcy Law, 102
7.2.2 Asserting Claims Under the U.S. Bankruptcy Code, 103
7.3 Assignment of Claims
104
7.4 Estimating Claims
105
7.5 Issues Relating to Secured Claims
106
7.5.1 Secured Claims Under the Enterprise Bankruptcy Law, 106
7.5.2 Secured Claims Under the U.S. Bankruptcy Code, 108
7.5.3 Adequate Protection, 109
7.6 Payment of Administrative Expenses
110
7.6.1 Post-Acceptance Costs and Expenses Under the Enterprise Bankruptcy Law. 110
7.6.2 Administrative Expenses Under the U.S. Bankruptcy Code, 111
7.7 Reclamation and Setoff Rights
112
7.7.1 Reclamation Rights, 112
7.7.2 Setoff Rights, 113
Insights and Recommendations, 114

CHAPTER EIGHT: Assets and Rights of the Debtor

119

8.1 Property of the Estate
119
8.1.1 Property of the Estate Under the Enterprise Bankruptcy Law, 119
8.1.2 Property of the Estate Under the U.S. Bankruptcy Code, 119
8.2 Executory Contracts
120
8.2.1 Assumption/Rejection Under the Enterprise Bankruptcy Law, 120
8.2.2 Assumption/Rejection Under the U.S. Bankruptcy Code, 121
Insights and Recommendations, 123
8.3 Avoidance Powers
123
8.3.1 Avoidance Powers Under the Enterprise Bankruptcy Law, 123
8.3.2 Avoidance Powers Under the U.S. Bankruptcy Code, 125
Insights and Recommendations, 127

CHAPTER NINE: Reorganization

131

9.1 Commencement of a Reorganization
131
9.2 Operation of Business
134
9.2.1 Debtor in Possession Concept Under the Enterprise Bankruptcy Law, 134
9.2.2 Debtor in Possession Concept Under the U.S. Bankruptcy Code, 135
9.3 Postpetition Financing
135
9.3.1 Financing Under the Enterprise Bankruptcy Law 135
9.3.2 Financing Under the U.S. Bankruptcy Code . 136
Insights and Recommendations 136
9.4 Asset Sales
137
9.4.1 Sale of Assets Under the Enterprise Bankruptcy Law, 137
9.4.2 Sale of Assets Under the U.S. Bankruptcy Code, 137
Insights and Recommendations, 138
9.5 Proposing a Plan of Reorganization
138
9.5.1 Deadline to File Plan of Reorganization 138
9.5.1.1 Deadline Under the Enterprise Bankruptcy Law, 138
9.5.1.2 Deadline Under the U.S. Bankruptcy Code, 139
9.5.2 Plan Contents and Classification . 140
9.5.2.1 Plan Contents and Classification Under the Enterprise Bankruptcy Law, 140
9.5.2.2 Plan Contents and Classification Under the U.S. Bankruptcy Code . 141
Insights and Recommendations 142
9.6 Lock-Up Agreements; Prepackaged and Prenegotiated Chapter 11 Cases
143
9.6.1 Lock-Up Agreements, 143
9.6.1.1 Problems Encountered with Lock-Up Agreements, 144
9.6.2 Prepackaged Cases, 146
9.6.3 Prenegotiated Cases, 147
9.6.4 Prepackaged and Prenegotiated Reorganization Cases Under the Enterprise Bankruptcy
Law, 147
9.7 Acceptance of a Plan of Reorganization
148
9.7.1 Disclosure and Solicitation, 148
9.7.2 Voting Eligibility Under the Enterprise Bankruptcy Law, 151
9.7.3 Voting Eligibility Under the U.S. Bankruptcy Code, 151
9.7.4 Voting Standards Under the Enterprise Bankruptcy Law, 153
9.7.5 Voting Standards Under the U.S. Bankruptcy Code, 153
Insights and Recommendations, 154
9.8 Confirmation or Approval of a Plan of Reorganization
155
9.8.1 Requirements for Approval Under the Enterprise Bankruptcy Law, 156
9.8.1.1 Consensual Plan of Reorganization, 156
9.8.1.2 Nonconsensual Plan of Reorganization, 156
9.8.2 Requirements for Confirmation Under the U.S. Bankruptcy Code, 159
9.8.2.1 Consensual Plan of Reorganization, 159
9.8.2.2 Cramdown, 161
9.8.2.3 "Liquidating" Chapter 11 Plans, 164
9.8.3 New Value Corollary, 165
Insights and Recommendations, 166
9.9 Implementation of a Plan of Reorganization
171
9.10 Post-Confirmation Modification of a Plan of Reorganization
171
9.11 Termination of Reorganization Process
172
9.12 Discharge and Releases
173
9.12.1 Discharge, 173
9.12.2 Third Party Releases, 174

CHAPTER TEN: Cross-Border Issues and the UNCITRAL Model Law

177

10.1 Recognition of Foreign Proceedings
177
10.2 International Principles of Comity
178
10.2.1 Overview of the Principle of Comity, 178
10.2.2 The Principle of Comity in the Bankruptcy Context, 179
10.3 Existing Law in the PRC and the Enforcement of Foreign Judgments
184
10.3.1 State of the Law, 184
10.3.2 Practical Implications and the History of Enforcement, 186
10.4 Chapter 15 and the U.S. Approach to International Restructurings
188
Insights and Recommendations, 190
CONCLUSION

193